Trade continues rapid growth
Trade continues rapid growth
President's trip will open up new opportunities for cooperation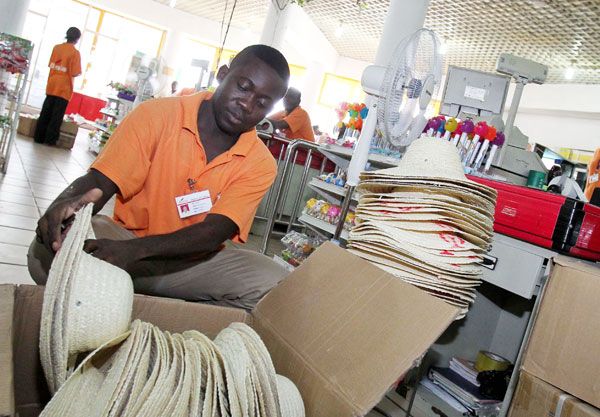 A salesman checks goods at a Chinese supermarket in Brazzaville, capital of Republic of the Congo. Meng Chenguang / Xinhua
Trade between China and Africa is expected to jump 20 percent this year, and China's investment into the continent will grow at an even faster pace, a government adviser said.
"President Xi Jinping's visit to Africa will open up a new era for economic cooperation between China and the continent," said former vice-minister of commerce Wei Jianguo in an interview with China Daily.
Wei is vice-chairman and secretary-general of the China Center for International Economic Exchanges, a high-level government think tank.
In 2012, China's trade with the continent hit $200 billion, with Chinese exports increasing 16.7 percent year-on-year to $85.3 billion and imports up 21.4 percent to $113.1 billion.
The growth rate of China's imports from Africa, according to Wei, was the fastest among all the trade partners. For instance, China's imports from BRICS countries last year were worth about $150 billion, up 7.8 percent year-on-year.
"This means that our imports from Africa will soon exceed those from BRICS countries," said Wei. "Meanwhile, we should not only import commodities but also agricultural products, wood, textiles and other semi-finished products."
Wei believes that Africa will likely surpass the European Union and the United States to become China's largest trade partner in three to five years.
China's bilateral trade with the EU - China's largest trade partner - dropped 3.7 percent last year. But trade with the US - the second-largest trade partner - grew 8.5 percent in 2012, according to Ministry of Commerce data.
The increased Chinese investment in Africa in recent years has boosted economic growth and tax income there, created many jobs and helped to train the local workforce, Ministry of Commerce spokesperson Shen Danyang said on Tuesday, describing the Sino-African cooperation projects as mutually beneficial.
Africa is also the continent seeing the fastest economic growth. According to an IMF forecast, among the top 10 countries with the fastest growth in GDP from 2011 to 2015, seven are in Africa. In 2011, the average growth of GDP in the continent was 5.4 percent, and the figure is expected to reach 6.1 percent in 2012, the IMF said.
"I expect China-Africa trade to see faster growth this year, as more Chinese companies have beefed up their business activities on the continent," said Wei.
He added that with more Chinese State-owned companies and private companies going to Africa, the quality of the investments will also be largely enhanced.
"Our investments in Africa are now centered on manufacturing, infrastructure and agriculture, but we should boost our investments in the tourism, healthcare and education sectors. Moreover, our investments into Africa's small-and-medium companies will likely also increase in the future," said Wei.
Industry data showed that around 1.1 million Chinese tourists went to Africa last year. An increasing number of Chinese airlines plan to launch more direct flights between China and the continent.
Wei also suggested that China should strengthen the export of cultural products to Africa.
During the first 10 months of 2012, China's non-financial investment into Africa was $1.5 billion, up 17 percent year-on-year, according to the Ministry of Commerce. With more than 2,000 Chinese companies operating in Africa, the continent is a major investment destination. So far, the Chinese government has set up six economic and trade business parks in five African countries to promote economic cooperation. A special program to back the development of Africa's small and medium enterprises has financed more than 20 projects.
"We're now thinking about how to expand the use of the renminbi as the settlement currency for bilateral trade. We hope that the renminbi can play a bigger role in promoting bilateral economic cooperation," Wei added.
Among the measures needed to promote economic cooperation and integration with the local society, Wei stressed that hiring more local staff, transferring technological know-how to local people and training more local technicians are particularly important for Chinese companies.