China, S Africa to prioritize ties i
China, S Africa to prioritize ties in foreign policies
PRETORIA, South Africa - China and South Africa agreed on Tuesday to prioritize bilateral relationship in their respective foreign policies and called for a more equal and balanced global partnership for development.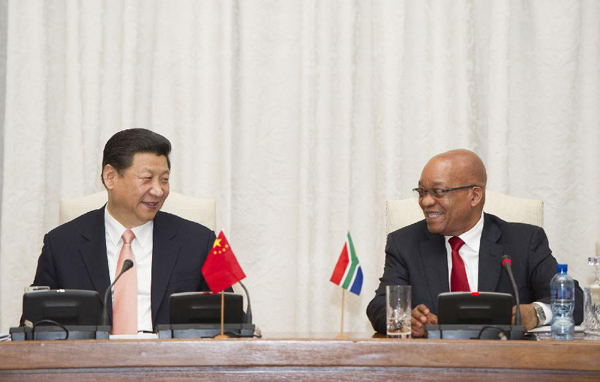 Visiting Chinese President Xi Jinping (L) meets with his South African counterpart Jacob Zuma in Pretoria, South Africa, March 26, 2013.[Photo/Xinhua]
"Both leaders agreed to make the bilateral relationship a strategic focus and priority in their respective foreign policies, " said a joint communique released after a meeting between visiting Chinese President Xi Jinping and his South African counterpart Jacob Zuma.

Acknowledging the bilateral relationship is among the most vibrant and important relationships each country has, the two sides pledged to take their comprehensive strategic partnership to new heights.
To achieve this, the two countries agreed to further expand and deepen political, economic and trade cooperation, people-to-people and cultural exchanges, as well as coordination and communication in regional and international affairs.
On the international front, China and South Africa vowed to uphold the legitimate rights and interests of developing countries and make the international order and system fairer and more equitable.
Meanwhile, they called on the international community to pay more attention to and provide greater support for Africa, respect African countries' efforts to solve regional issues on their own, and help them enhance capability for self-generated development.
Xi arrived here Monday for a state visit to South Africa, the third leg of his first foreign trip after he assumed Chinese presidency earlier this month.